Per utilizzare la proprietà Artistic sono stati introdotti gli smalti speciali (special varnish) che permetteranno di colorare gli oggetti.
Minando e choppando, sarà possibile estrarre:
– ancient stone: piccole pietre che contengono traccie di minerali non più reperibili;
– ancient piece of amber: pezzi di ambra che contengono traccie di legnami non più reperibili.
Per ottenere lo smalto speciale, quindi lo special varnish, occorre eseguire i seguenti passaggi:
Creare il varnish bottle, ingredienti presenti nell'alchemical book, skills required 50. E' possibile inserirli nei keg.
Creare lo special varnish usando il calderone con 1 varnish bottle, 10 blocks of glass, 1 ancient amber/stone, 6 dead wood e 6 volcanic ash. Skill required 135.
Per ricolorare l'item basterà clickare sullo special varnish e selezionare l'items con proprietà Artistic (Realizzati in iron o log normale). Alcuni oggetti (es: owen, bed, table, ecc…) essendo composti da più componenti hanno bisogno di uno special varnish per ogni singolo pezzo che li compone.
Affinchè un item abbia la proprietà Artistic occore che sia:
• Craftato con solo iron/log/hide
• Crafting log+iron -> entrambi devono essere log e iron
• Crafting glass -> il glass deve essere combinato solo con iron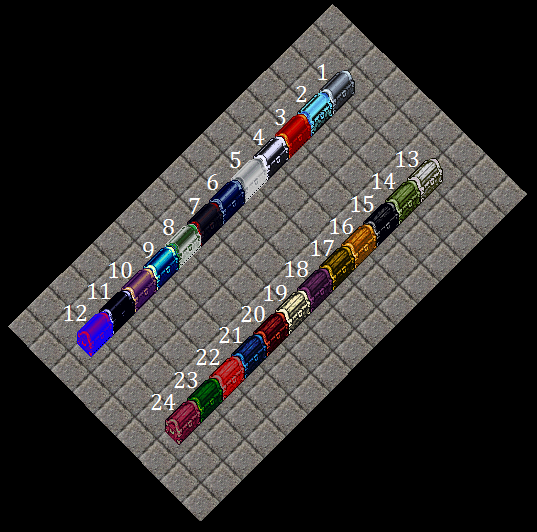 1 – virginity stone varnish
2 – ice rock stone varnish
3 – lavarock stone varnish
4 – snowfall stone varnish
5 – dripstone stone varnish
6 – skystone stone varnish
7 – red elven stone varnish
8 – doom stone varnish
9 – celestial stone varnish
10 – peachblue stone varnish
11 – adamantium stone varnish
12 – spectral stone varnish
13 – sun amber varnish
14 – swamp amber varnish
15 – cinder amber varnish
16 – orange amber varnish
17 – golden reflection amber varnish
18 – purple passion amber varnish
19 – koto amber varnish
20 – blood amber varnish
21 – crystal amber varnish
22 – gaunlet amber varnish
23 – jade amber varnish
24 – blood horse amber varnish
Vi è anche la possibilità di trovare le shells con fishing e fishing net (non in .working), naturalmente alcune sono più rare di altre, ecco l'ordine specifico:
Aquaria
Capricornia
Sea Nymph
Neptune's Nautilus
Sea Shore Sand Dollar
Divinia
Mermaid
Ocean Odyssey
Talimari
Sarà possibile ottenere delle tinture particolari da queste conchiglie con cui potrete colorare le stoffe, ed ecco i vari colori applicati su una veste, la rarità è divisa in gruppi di 3 crescente:
1-2-3 comuni
4-5-6 non comuni
7-8-9 rari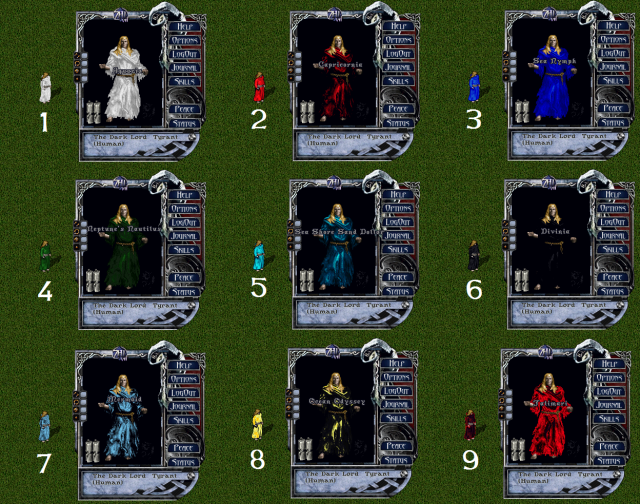 Ecco il procedimento:
1) Heating stand sulla shells per ottenere la shell powder (100 alchemy);
2) Cauldron e 1 shell powder, 10 pitchers of water e 5 pig iron per ottenere 1 shell dye bottle (110 alchemy);
3) Shell dye bottle su dying tub. Con il dying tub è possibile ricolorare un solo items di stoffa.
Shard StatusThe Server is UP

Account: 11050
NPCs: 14660
Items: 157613
Uptime: 3 hours
Server load: 8%